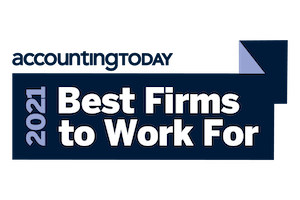 We are honored to be recognized by Accounting Today as one of the "Best Firms to Work For"! This award is designed to identify, recognize and honor the best employers in the accounting profession.
Read Article
"The firms on this list represent the best workplaces in the accounting profession, they are outstanding places to build a career."
Daniel Hood
Editor-in-Chief, Accounting Today
---
Why Han Group Stands Out
Focus on Quality Services for the Nonprofit Sector
We serve mission-driven nonprofits to help them make a difference in their communities
Our staff are passionate about our client's goals and strive to meet their needs on a daily basis
Technically Savvy
Remote service-ready
Utilize paperless systems
Various software solutions to provide efficient results
Dedication to Diversity – Empowering our People to Empower Others
We celebrate our diverse team members and strive to provide an inclusive workplace culture
Over 55% of our staff are People of Color: Asian American, African American, and Hispanic American
Our managing partner, Jennifer Han, was honored by the Washington Business Journal as a Minority Business Leader:  Read Article
Shattering the Glass Ceiling – Women in Leadership
Han Group is a certified Women-Owned Small Business
80% of our partners are female CPAs
Staff Continuity and Staff Education
Passionate team members and a collaborative environment creates high employee retention
Our turn-over rate is well below the average for accounting firms
Han Group employees earn a minimum of 40 hours of continuing professional education each year
---
From Jennifer Han, Managing Partner, Han Group
Han Group LLC is powered by a diverse mix of individuals who are passionate about working with nonprofit organizations!
Han Group is committed to putting nonprofits above the rest by providing high-quality, efficient and effective audit, accounting and tax services, freeing our clients to focus on their mission-driven programs; to make a difference; from our local communities to the world at large.
Han Group accountants work diligently for client satisfaction and enjoy the gratification that results from a job well done.
Our staff enjoys being part of a firm that values the unique contribution each individual offers to the team as-a-whole, a place where they know their goals can be achieved.